Products & FAQ's
---
Spa Appointment Booking Guidelines:
All spa inquiries can be booked online or by calling each location.
All BRIDAL inquires can be done by email. Please email [email protected]. Our bridal coordinator Bailey, will return your email promptly.
To change or cancel an existing appointment please call the spa with plenty of notice given. If less than 24 hours notice is given, 50% of the services booked will be invoiced to you or charged to the card prior to your next booking.
Facial clients looking for result orientated treatments will be required to use one of three skincare lines recommended by the Esthetician performing your treatments. We will not treat any client that is on Accutane, Retinol, Blood thinners, or Vasodilators. We also refuse the right to treat any client for any reason, at any time.
Please arrive 10 minutes prior to your appointment to fill our our intake forms, change and prepare for treatment.
Please remove earrings, watches, and necklaces prior to any facial, massage, or spray tan appointment.
Product and Service FAQ'S:
Hydra Dermabrasion Facial 
The Hydradermabrasion facial treatment is the newest advance in non-laser skin resurfacing. Hydradermabrasion facial is a wet dermabrasion treatment that consists of cleansing, exfoliation, extraction, hydration and antioxidant protection all in one. As a result, your skin is more clear, smooth, and beautiful with no discomfort or downtime needed. This can be performed as a standalone treatment. Customized serums will be added to enhance your treatment results.
We recommend adding on a dermaplane session along with LED light therapy treatment to enhance the skin's overall health and appearance due to its tissue growth and healing abilities or if you want to detoxify and tone then you can also add on a radio frequency skin tightening session for tightening and toning of the face.
Rezenerate Facial Treatment
Anti-aging benefits
As you age, your skin loses its natural elasticity. this causes the skin to become thinner and limper, which may result in wrinkles, crow's feet or age spots. a variety of factors may also contribute to aging, such as genetics, personal lifestyle or sun damage. The rezenerate facial significantly minimizes fine lines, dark under eye circles and wrinkles. As the proprietary wand delivers nutrients to the top of the dermal layer of your skin, it maximizes collagen levels making your skin plumper, while also serving to reverse the signs of aging. Your skin will appear more youthful after your first treatment. you will notice a more vigorous, softer look to your skin complexion.
Reduces blemishes
There are various causes of skin blemishes, from acne breakouts to dry skin and aging symptoms. most blemishes can easily be treatment with creams, while some may be difficult to get rid of with over-the-counter products. Skin blemishes can have a devastating effect on one's self-esteem. most people will try to hide blemishes with make-up, but it doesn't resolve the underlying problems. with rezenerate facial treatments, the wand delivers hundreds of thousands of microscopic permeations on the skin, which reduces the appearance of blemishes and dark aging spots. You will notice short-term benefits after one to three treatments, and over time, your skin will feel smoother and even-toned.
Hydration for the skin
Dry skin can exacerbate many conditions, such as dermatitis, dehydration, flaky skin, eczema and psoriasis. it can also gives the skin a dull and harsh-looking appearance. Rezenerate facials are designed to remedy the effects of dry, flaky skin. after one treatment, you will notice an immediate improvement in your skin's texture and tone. the recovery time is quick with little to no signs of infection. you can actually begin applying facial creams and makeup to your skin with a short time-frame after your treatment. to improve your results overtime, rezenerate facial treatments are recommended every two to four weeks. the amount of treatments needed to produce optimal results depend on the condition of your skin.
Rezenerate facials are known to work for all skin types. The treatment is designed to virtually improve the appearance of anyone's skin regardless of age. most people who have tried rezenerate facials noticed that their skin textures emanated natural shine, smoothness and plumpness. If you are interested in trying this innovative facial treatment, your aesthetician will evaluate your skin and recommend the best treatment solution to combat any underlying conditions that you may have.
Spray Tanning
Before the tan:
Exfoliate and moisturize 24 hours before your treatment, paying particular attention to elbows, knees, ankles and
problem dry areas.
Wax/shave at least 24 hours prior to treatment. This allows the pores time to close. Dotting in pores may appear if not adhered to.
The entire 24 hours before your treatment avoid using bar soaps, high pH shower products or in shower moisturizers.
Do not apply moisturizer, perfume, deodorant or makeup on the day of your treatment.
If the skin is dry, use a primer, to balance pH levels in the skin and blending cream to block our unwanted tanning areas.
After the tan:
Wear dark loose clothing; tight clothing or underwear may cause marks. Wear flip-flops or loose fitting shoes.
Shower lightly in cold – lukewarm water for 45 seconds
After the first 2 hours for a light to medium tan, 6-8 hours fro Norvell or Sjolie Organic Tans.
Shower in plain water; don't use shower gels, scrubs, shampoos or a loofah
during the first 24 hours after your treatment.
Pat dry and use aftercare products including moisturizers and gradual tanners after your first shower to extend the life of your
tan and stay looking gorgeous.
Avoid sweating, don't exercise or swim for the first 24 hours after
your spray tan treatment.
Try not to touch your skin during development time. Any marks on your hands, therefore, are due to your hands touching the developing tan. You need to be aware that once this has developed, nothing will remove it from your palms. Moisturize, moisturize and moisturize some more.
Use a gradual tanner so your tan is continually being topped up and its life
extended. Remember to wash your palms after.
After day 5, exfoliate with a soft body polish on a daily basis, to help your skin absorb even more moisturizer and keep it
looking and feeling gorgeous.
Long exposure to water and sweating from exercise will fade your spray tan. Your outer cells will start to soak up water which dilutes the effect of the tan. The longer you are in water the
lighter your tan will get.
Sjolie Organic Sunless Tanning
In addition to protecting your health, the shift to organic products has a lot to do with saving the environment. All-natural cosmetics that are made with sustainable technologies have a smaller impact on the environment and animals than beauty products that are manufactured using traditional processes.
Sjolie Sunless is a family owned and operated company based out of Rocklin, CA.  We started Sjolie Sunless with a simple mission: to make better sunless tanning products by making a better company than any other in the industry. We choose to source the world's finest naturally derived ingredients and materials to create retail products you can be confident will provide you a dependable reputation as a health conscientious sunless professional in the community.  We have been manufacturing sunless tanning solutions and products for over a decade from our facility located in California.  Under the Sjolie family name since 2009, we are proud to be a true manufacturer of our products and to be a part of every facet of our product creation from our agriculturists all the way to our development and design.  We have truly put our heart and soul into making Sjolie Sunless the best possible answer for your everyday sunless tanning needs.
We manufacturer our own solutions and sunless products.  Because we do this, we have a direct partnership with ingredient farmers allowing us to send our blending experts their ingredients at peak freshness, with minimal time in transit, and at a better value than they can find anywhere else.  These direct partnerships provide our agriculturalists with guaranteed demand for their harvest, allowing them to better plan their crop rotations to grow specialty ingredients just for us, and improving their livelihoods in the process.
This also means we personally touch our products during conception, through creation, and into distribution.  We are a naturally derived, organic company because we care about your healthiness and want your natural beauty to shine.  We also care very deeply about this planet and keeping it clean and resilient for all future generations to enjoy.
Norvell Sunless Spray Tanning 
RATED #1 PROFESSIONAL SUNLESS TANNING BRAND
BY PROFESSIONAL SPRAY TAN ARTISTS/TECHNICIANSNorvell guarantees a fast drying, non-sticky and streak-free formula. You may not realize how important these three things are until you try a product that doesn't have them.  Trust us on this one – you'll thank us. Norvell's perfectly blended formulas crush the competition and eliminate the worry of looking orange. Meticulously crafted utilizing color theory, Norvell solutions provide Just off the Beach™ color without the typical tanning salon odor. With Norvell, and proper maintenance, you can expect 7 days of a gorgeous glow and an even color fade.
Venetian™… An exotic sunless formula with a unique combination of violet and brown tone bronzers, designed to mimic the sought-after skin tones found on the beautiful beaches of the European Riviera. The unique combination of violet bronzers blends with all skin tones to produce a dark, long-lasting tan.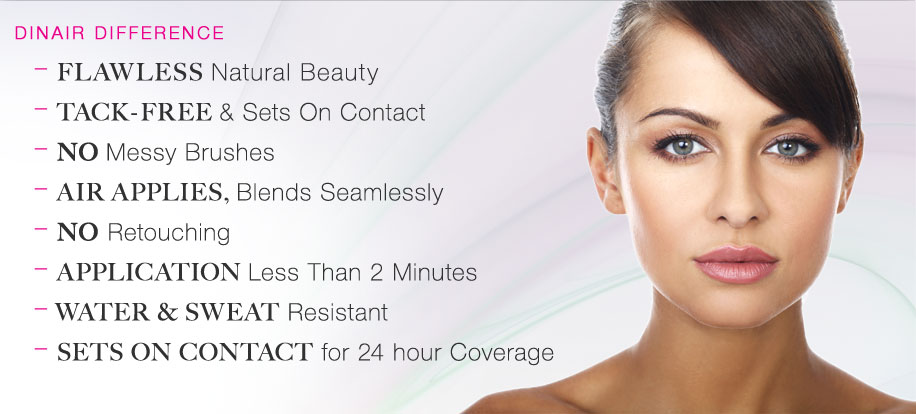 Unlike traditional makeup (where you rub makeup into your skin), airbrushing sprays a fine mist, so the makeup "sits evenly" on your skin. Airbrush makeup provides flawless coverage (sheer or opaque), by minimizing skin imperfections while giving skin a beautifully natural looking finished result.  Dinair airbrush makeup lasts as long as 24 hours without smearing, running, fading or caking.

 XO8 Placenta Stem Cell Mask 
At XO8 Cosmeceuticals, we are committed to promoting skin's natural physiology with ingredients that are hand selected and formulated without added fragrance, parabens, phthalates, or other chemicals and additives.
OVINE SHEEP PLACENTA EXTRACT WITH PLURIPOTENT STEM CELLS
Our ovine sheep placenta stem cell extract contains bioactive stem cells, which restore the growth layer function that slows down as we age. The messenger molecules (known as growth factors and cytokines) in our extract wake our own dormant stem cells in the skin's basal layer, restoring your skin's normal function to repair and rejuvenate, leaving you with a healthy, youthful appearance.
To ensure product safety and integrity, all of our raw materials for pharmaceuticals and nutraceuticals are sourced from and processed at licensed MPI (Ministry of Primary Industries) inspected premises.
What is pluripotent? Pluripotent is a term used to define a cell's ability to differentiate into other cell types. Pluripotent cells selectively attach themselves to good cells and then multiply, creating even more healthy, active skin cells.


Le Mieux Skin Care
Le Mieux is a division of Bielle Cosmetics, Inc., specializing in INNOVATIVE SKINCARE PRODUCTS based on EXTENSIVE anti-aging and cell growth RESEARCH. Our high-tech youth preserving products keep us at the forefront of a constantly evolving beauty care industry. The company offers a unique and comprehensive range of products combining the LATEST BREAKTHROUGHS in natural, herbal and botanical ingredients with innovative, state-of-the-art formulae. Le Mieux Cosmetics takes pride in excellent professional training and PROVIDES QUALITY PRODUCTS.
TECHNOLOGY
The secret to our formulations lies in the specialized delivery. The orchestration of ingredients and proper pairing ensure optimal effectiveness of the product.
Why is the delivery system important?
Transports ingredients to the desired site at the precise concentration and time
Manipulates the properties of an ingredient; i.e. size, for easier penetration
Allows ingredients to penetrate the skin's tough barriers at various depth
Le Mieux Cosmetics is an international company and professional skincare line founded in 2004 by an elite team of scientists, biologists, physicians, and chemists who are committed to creating pivotal breakthroughs in cosmetic technology to formulate the best anti-aging skincare solutions on the skincare market.
The company has garnered the reputation of "The Serum Authority" for its diverse selection of scientifically advanced serums with triple-tiered delivery systems, timed-release technology, and concentrated ingredients from premium sources, all custom-engineered to effectively treat a myriad of skincare concerns. Le Mieux is the first company to integrate Epidermal Growth Factor into its products to mimic human growth factors and enhance regeneration of the skin.
Le Mieux is passionate about education and provides specialized training that inspires skincare professionals to hone their skills and techniques, broaden the scope of their ingredient knowledge, encourage external and internal wellbeing, and foster best practices for growing a successful skincare business.
Image Skincare
We are a clinical skincare brand, powered by safe, proven ingredients and smart botanicals – for your healthiest skin… ever. Created by an aesthetician, formulated by a plastic surgeon, and represented by a network of 20,000 skincare professionals in over 52 countries worldwide. So you could say we know skin inside and out: how to protect it, what makes it healthy, and keep it younger looking. Whatever your skin's challenge—sun damage, acne, aging, rosacea—we've been there and we're here to help you Age Later.
In an industry complicated by unnecessary chemicals, IMAGE Skincare founder Janna Ronert set out to create products powered by smart botanicals and high percentages of safe, proven active ingredients – something she couldn't find on the market. As an aesthetician battling rosacea, Janna believed that all women deserve simplicity, value and results when it comes to their skincare – and deserve their best skin possible. IMAGE Skincare started in a tiny apartment in 2003 with our OG and bestselling sensitivity collection – Vital C – and now has 13 collections in over 52 countries worldwide.
Together with her husband, IMAGE Skincare clinical director and board-certified plastic surgeon Dr. Marc Ronert, Janna collaborates with top chemists to ideate and formulate every product we bring to market.
BY PROFESSIONALS, FOR PROFESSIONALS.
Simply put, we know skin. Our multi-functional products contain the highest levels of active ingredients and are loved—and used—by skincare professionals. IMAGE Skincare clinical director, Dr. Marc Ronert, develops our proprietary formulations to ensure that each one delivers superior effectiveness and real results. Some of our products and treatments are so active, they are only available through a licensed professional.
Lavera Natural Makeup 
Lavera makeup is 100% gluten free, cruelty free, and all natural! Dermatologically and opthamologically tested for sensitive skin and eyes. For those with skin irritations or allergies, you can feel safe using these products on your face. There's something perfect for everyone. With everything from ultra volumizing and lengthening mascaras, to creamy lipsticks and velvety smooth eyeshadows.
Cerepil Blue Wax
At Cirépil by Perron Rigot, we believe: "It's not just about what we remove. It is about what we leave behind… Healthy Skin!" Unlike traditional methods of waxing, Cirépil wax sticks to the hair rather than the skin, reducing the pain of waxing by 50%! Cirépil wax encapsulates the hair, removing it from the root while leaving the skin undamaged. When the integrity of the skin is uncompromised, there is reduced inflammation, redness and downtime for the client; making painful waxing a thing of the past!
Waxing Prerequisites:
To ensure maximum comfort and benefit after the treatment, it is important to follow the steps below at home:
We require at least 2 weeks of regrowth since the last shaving. 1/4″ to 1/2″ inches are the minimum length for underarm, bikini, and leg waxing.
Avoid applying heat to the waxed area for 12 hours to 24 hours. This includes, hot baths, sauna, and steam as well as working out.
before your wax, you can take a low dose over the counter pain medicine. In addition if you are prone to bumps or reactions following waxing you can take an Anti Histamine to help prevent any histamine reactions.
Use an exfoliating scrub and no bump following any chest or back waxing until any break outs are gone. Use No bump weekly 2-4 times for ingrown hair maintenance.
Avoid tanning for 24 hours. This includes UV beds, and any tanning bed treatments.
Avoid any highly fragranced products. This includes perfume, scented body lotions, antiperspirants, cosmetics, and feminine hygiene sprays.
Avoid applying chemical based SPF products, we recommend a mineral organic based sunscreen, and a hat for any facial waxing.
Any pinking of the skin should disappear within 6-8 hours after waxing. slight pinking is normal, and indicates that the hair was removed from the root, rather than superficially broken off, as in shaving, This is the reason professional waxing lasts so much longer!
For best results, repeat your waxing every 2-4 weeks depending on the hair growth rate.
Ellebana Lash Lift
The hottest trend in the eyelash industry allows luscious lifted lashes that will last for weeks, in the blink of an eye. Just one 20 minute professional treatment is all it takes to deliver a sumptuous lash lift that is retained even after a shower or swimming, for up to 12 weeks. Not suitable for sensitive or watery eyes.
Please come to the appointment makeup free. You cannot wet the lashes or wear mascara for 24 hours post lift.